Hundreds of fans will converge on the Doubletree Hotel Tampa Westshore Airport to meet and greet stars from their favorite science fiction shows and movies, show off their costuming talents, and spend the weekend celebrating all things sci-fi.
Tampa, FL (PRWEB) April 14, 2010 -- Christopher Lloyd and Michael Shanks join nine other celebrities and guests in a weekend-long sci-fi convention presented by Vulcan Events. Convention-host veteran Marc B. Lee will bring his specialized brand of humor and energy to the event and the DeLorean Time Machine will be there celebrating the 25th Anniversary of "Back to the Future" and raising funds and awareness for the Michael J. Fox Foundation for Parkinson's Research.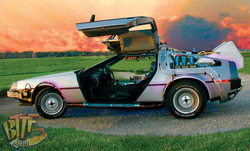 Special apperance by a replica of the Back to the Future Delorean
Their inaugural event promises to provide a relaxed and sociable atmosphere where fans can mingle with stars and enjoy the many convention activities including auctions, themed dance party Saturday night, and special events for children. In conjunction with the Starfleet chapter USS Shooting Star, Vulcan Events will be attempting to break the Guinness World Record for "the largest gathering of people dressed as Star Trek characters".
First-time convention goers will be pleasantly surprised at the ambiance and disposition of the average patron. "We may look like geeks in rubber masks but we are doctors, lawyers, and people from all walks of life. This is our fun; this is our escape" notes Javier Garcia, one of the promoters.
All ticket options are available for advanced purchase but the highest ticket package—Platinum—is already sold out. Tickets start at $36 preshow and $40 at the door.
About the Celebrity Guests
Christopher Lloyd's first major film role was Max Taber, a mental patient in One Flew Over the Cuckoo's Nest. He is widely known for his portrayal of Emmett "Doc" Brown in the Back to the Future trilogy, Judge Doom in Who Framed Roger Rabbit, Uncle Fester in the Addams Family, and Reverend Jim Ignatowski in Taxi, a role that earned him two Emmy Awards.
Joining Lloyd is Michael Shanks from Stargate fame. Shanks starred in ten seasons of Stargate SG-1 as the brilliant if slightly awkward Dr. Daniel Jackson. He continued his role in several Stargate movies as well as a recurring character in spin-off Stargate Atlantis and the new Stargate Universe. Shanks has also appeared in other television shows such as 24, Andromeda, CSI: Miami, Burn Notice, Eureka, Sanctuary, and Supernatural. He is slated to appear in the season finale of Smallville reprising his role of Carter Hall aka Hawkman.
Rounding out the guest list are numerous celebrities from the sci-fi world. Gary Graham has played various roles in the sci-fi universe including a starring role as Detective Matthew Sikes in Alien Nation and a recurring role as Vulcan Ambassador Soval on Enterprise. William Morgan Sheppard's creepy portrayal of the Klingon penal colony commander in Star Trek VI: The Undiscovered Country and Captain Archibald Amundsen Witwicky in Transformers are just two of his more than 150 film and television credits.
While many recognize Tony Todd as the Candyman from the horror film series, he has numerous sci-fi and mainstream credits to his name including an older Jake Sisko on Star Trek: Deep Space Nine, Worf's brother Kurn in Star Trek: The Next Generation, and roles in Chuck, Boston Legal, Stargate SG-1, Charmed, Andromeda, Smallville, Angel, Babylon 5, Star Trek: Voyager, Xena: Warrior Princess, Beastmaster, The X Files, and all three Final Destination movies.
Cigar-chomping Al Calavicci from Quantum Leap was only one of Dean Stockwell's many roles. Starting at a very young age, he shared the screen with Frank Sinatra and Gene Kelly in Anchors Aweigh and has gone on to star in almost 200 television shows and movies including Enterprise, Stargate SG-1, and a recent recurring role as John Cavil in SyFy channel's Battlestar Galactica.
Wholesome mom Annie Camden from 7th Heaven is perhaps her most famous role but Catherine Hicks also played cetacean (whale) biologist Dr. Gillian Taylor in Star Trek IV: The Voyage Home, a movie ahead of the green initiative by 20 years.
Sally Kellerman and Gary Lockwood stared in the Star Trek pilot Where No Man Has Gone Before in 1966. Kellerman played Dr. Elizabeth Dehner and went on to play Major Margaret 'Hot Lips' Houlihan in Robert Altman's film M*A*S*H. Lockwood portrayed Lt. Cmdr. Gary Mitchell in the Star Trek pilot and returned to space in Stanley Kubrick's 2001: A Space Odyssey playing Dr. Frank Poole.
Also appearing all weekend are guest artist Tye Bourdony and guest author Glenda C. Finkelstein. Musical Guest Sci-Fried will be performing Saturday night.
About Vulcan Events
Focused on putting on great events for the fans, Fernando Martinez and Javier Garcia come together to produce intimate conventions offering refreshing alternatives to other convention styles that offer one long line after another. Drawing on more than 25 years of experience, they bring trust and confidence back to the small-convention market.

http://www.prweb.com/releases/2010/04/prweb3864664.htm