99 people set a new Guinness world record for the largest gathering of people dressed as Star Trek characters at the Millennium Bridge on Sunday lunchtime.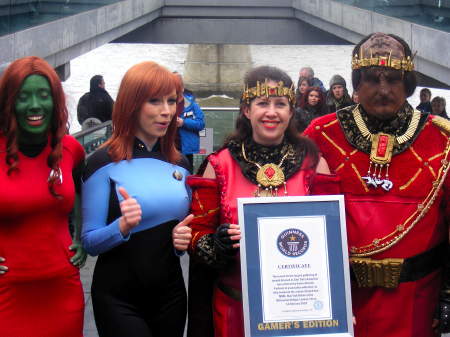 Adjudicators from Guinness World Records counted 99 people in Star Trek costume as they filed onto the bridge from Bankside at 1pm on Sunday.
The stunt was organised by Namco Bandai Partners, thedistributor of newly launched multiplayer online game
Star Trek Online
. They had hoped that at least 200 people would turn up.
The Millennium Bridge is a popular location for world record attempts and similar publicity stunts. Three years ago 600 people bouncing on space hoppers set a new record as a promotion for the UKTV Gold channel.
• On Saturday Taiwanese artist Vincent Huang staged a climate change protest on Bankside by hanging two glass penguins and a stuffed polar bear from the Millennium Bridge.
http://www.london-se1.co.uk/news/view/4351